Electricity is everywhere, and could theoretically power electric cars anywhere we wish to go.
Why should we limit where we can drive? Electricity is everywhere, why not access that electricity to drive anywhere? Unfortunately the electricity is not always available through a charging station. At this time that means developing knowledge of some simple rules for safely using extension cords and adapter cables matching any power outlet, and carrying with you a high power charging station.
Primary scenarios for using extension cords to charge an electric car
Blocked from accessing a public charging station
Parking spot is too far from power outlet
A regular charging station is not available
In other words, in many circumstances there is either no charging station at all, or else the charging cord cannot reach your car. See: Informal electric car charging at any power outlet, versus a regular charging station
LANGUAGE NOTE: It seems that in some countries the phrase "extension lead" is used, and seems to mean the same thing.
SAFETY: Wait, isn't it dangerous to use an extension cord to charge a vehicle?
Is it safe to use extension cords and adapters to charge an electric car? Yes, with care.
Can you charge an electric car from a dryer outlet? Yes, with care.
Are there any problems with charging an electric car using an extension cord? There can be, but all problems are solvable.
The short answer is to use a good quality extension cord with thick wires and beefy plugs. In the lists below we show several choices for 120 volt 10 gauge extension cords that are safe for use with a line cord charger, and several 240 volt 40 amp extension cords safe for use with higher power charging stations. The safest choice is a good quality J1772 extension cord, and we show a couple of those.
WARNING: Vehicle manufacturers universally warn against using an extension cord to extend the reach of the supplied line-cord charger. Please, exercise caution in reading what is written here.
The general principles are:
Check carefully the power socket rating
Check carefully the wiring to the power socket
Use heavy duty cables with high enough gauge to handle the current
Don't use cables that are frayed or broken
If you can, adjust the vehicle charger to not draw more current than you know is safe
Your power is limited by the weakest link in the chain - don't draw more through a circuit than the rating of the weakest component
Check whether cords or connections get hot while in use
Use the shortest length of cord possible
What is a substandard dangerous situation? A skinny cord, frayed wiring, bad power socket, acts like a "resistor" or "heating element". Sending too much current through a bad connection acts like a heater. Say your car is pulling 6 kilowatts, a 10% loss from a bad connection means 600 watts being dissipated as heat. That's about the same as a typical hair dryer, and is a common cause of electrical fires.
Ampacity is the measure of the maximum safe current (amps) we can use in a wire of a given thickness. Generally, the thicker the wire the more current it can carry. See: Electric car charging within electrical code and power outlet limits
Avoid violating Electrical codes Smart electricians and electrical engineers have spent decades cooperatively developing the electrical code. Their recommendations were won through hard work and the occasional electrical fire.
Your fate is in your hands - this is for educational purposes. I am offering this for education, and you are responsible for your actions. Applied incorrectly this can cause electrocution or fire. Take care, be smart and educated, and you'll be okay.
The need for safety: Done badly, it's possible to cause damage. The warning against extension cords isn't a whimsy, they're rightfully concerned about safety. There have been multiple fires from electric cars being charged through substandard wiring. Careful use of good quality extension cords and power outlets is the way to avoid an electrical fire.
Why is it bad to charge an electric car via an extension cord? Why does this page say an extension cord is okay when the manufacturers say NO?
The manufacturers are excercising caution, and are afraid of liability. An electric car charging-related electrical fire can set back EV adoption, and hurt the reputation of the manufacturer associated with the fire. An over-abundance of caution is a good thing when there is risk of an electrical fire, and we do not fault the manufacturers for being cautious.
At the same time, with knowledge one can do things manufacturers warn against doing. The safest method is the J1772 extension cords discussed later.
Avoid lengthy cable runs There is a voltage drop that increases as the charging cable gets longer. The lowered voltage causes issues with the charging equipment that can lead to problems. The two solutions to the voltage drop is to use thicker wires, and to keep the cables as short as possible.
Which End to Extend - J1772 extension cord, versus regular extension cords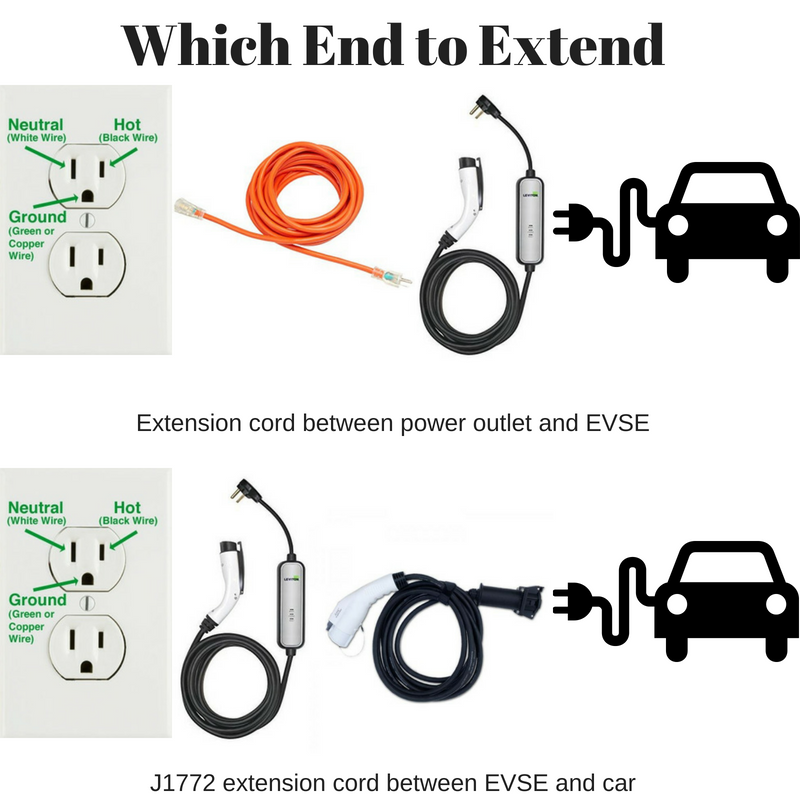 To most an "extension cord" is plugged into a power outlet, then one or more gizmo's plugged into the cord. This might be for christmas lights, or bringing electricity to an area of a building with no power outlets. In our house the ironing board is on a closet door, and there's no convenient power outlet, so an extension cord is required to power the clothes iron.
With electric car charging we have two choices of using an extension cord. The picture above demonstrates those two modes:
A J1772 cord between the EVSE and the car (preferred method)
A regular extension cord between a power outlet and the EVSE
J1772 electric car extension cords are the best choice, if built right
The most correct electric car extension cord fits between the J1772 plug from the charging station to the J1772 socket on your car. A J1772 cord should be built with heavy-duty wire and components meant to carry the current required to charge an electric car.
A skinny frayed extension cord plugged into a dodgy power outlets can cause an electrical fire. We can avoid that with an extension cord built for the purpose, from components rated to the load that will be carried. This is the safest choice. Some considerations that will separate the good quality J1772 cords from the bad:
Ratings: As with every other component in the charging system, the J1772 extension cord must be rated to handle the current required for the charging rate. For a 6+ kiloWatt charging session, the cord needs to be rated for at least 40 amps.
| EVSE type | Range per hour of charging | Power required | Circuit |
| --- | --- | --- | --- |
| Typical line charger | 4 miles | 120 volts 12 amps | 120 volts 20 amps |
| 3 kW EVSE | 10-12 miles | 240 volts 16 amps | 240 volts 20 amps |
| 4-5 kW EVSE | 18 miles | 240 volts 24 amps | 240 volts 30 amps |
| 6 kW EVSE | 20-25 miles | 240 volts 32 amps | 240 volts 40 amps |
Wire size: To be useful, a J1772 extension cord has to be 25 feet or longer, which can mean a significant voltage drop with thin wires. For a 6+ kiloWatt charging session, the wires should be 8 gauge or thicker.
Flexibility: Your J1772 extension cord will be used in a variety of settings, so a flexible cord is a must.
There may be other
J1772 extension cords on ebay.com
"Regular" Extension Cords
The following are some useful extension cords for use with an electric car charging station. Since they're designed for regular power outlets, they fit between the charging station and a power outlet.
NOTE CAREFULLY: When in the store looking at extension cords, read the label carefully and look at the thickness of the wire.
Some of these have a molded plug on one end, and bare wire at the other. That makes them excellent starting points for building adapter cords. Simply attach the desired plug or socket to the end with bare wires.
NEMA 14-50 extension cords - 40 amps max charge rate
These will be primarily used with higher power 6+ kiloWatt charging stations. Every one of these extension cords have the beefy wires and connectors required to handle a 40 amps continuous charging rate. That's enough to handle any electric car charging situation you'll face. These cords are a good alternative to the J1772 extension cords listed earlier.
NEMA 6-50 extension cords - 40 amps max charge rate
These are the same as the NEMA 14-50 cords, but with 6-50 connectors instead. They also support a 40 amp charge rate, and will handle any charging situation you'll face.
NEMA L14-30 extension cords - 24 amp maximum charging rate
The outlets rated for 30 amps are useful with the 16 amp or 24 amp charging stations. Using these outlets may require buying or building an adapter cord to match the EVSE's plug to the power outlet.
NEMA L6-30 extension cords - 24 amp maximum charging rate
Ditto.
NEMA 6-20 extension cords - 16 amp maximum charging rate
Ditto, and the 20 amp outlets are limited to use with 16 amp charging stations.
NEMA 5-20 extension cords - 16 amp maximum charging rate
The 120 volt power outlets are limited to use with the line cord EVSE sold with the car. When looking at 120 volt extension cords you must be very careful with the wire gauge. The typical skinny 14 or 16 gauge extension cord simply won't cut it for EV charging. You must use a heavy-duty cord with 10 gauge wires and good quality connectors.
Commercially built adapters
You won't always find the nirvana of matching the charging station to the power outlet. An adapter, whether commercially made or home-made, is often necessary. Be careful with adapters to avoid the position of drawing 32 amps from an outlet rated for 16 amps. If you're lucky the circuit breaker will prevent a serious problem.
NEMA 6-50 to L14-30, 240 volt 30 amp
NEMA 6-50 to 14-50, 240 volt 50 amp
NEMA L14-30P to NEMA 14-50R, 240 volt 30 amp
NEMA 14-30P to NEMA L14-30R
NEMA L14-30P to 6-15/20R
NEMA-L5-20R to NEMA-5-20P, 120 volt 20 amp
NEMA 14-50 to TT-30
The TT-30 outlet is 120 volts up to 30 amps (24 amps continuous).
Ground Fault protection
Charging an electric vehicle is almost certainly going to happen outside. It might be raining. Water and electricity is of course a bad idea. GFCI plugs are designed to make it safe.
Sockets and Plugs
These products are useful for building custom adapter cords.
NEMA 14-50 - 240 volt 50 amp
NEMA 6-50 - 240 volt 50 amp
NEMA L14-30
NEMA L6-30 - 240 volt 30 amp
NEMA L6-20
NEMA 6-50, 6-30, 240 volt, 50 amp, 30 amp
NEMA 6-20
NEMA TT-30P
Heavy duty wire/cable
---
comments powered by