Last Update: June 22, 2015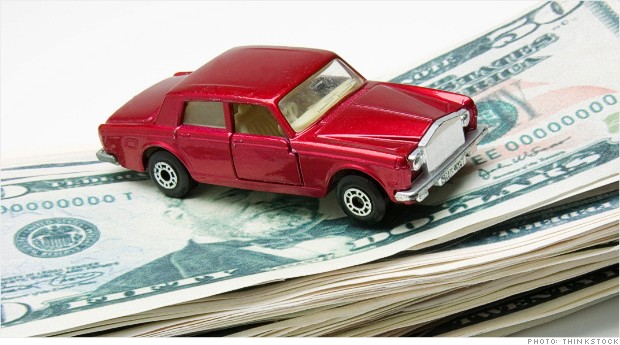 Consumer Reports has a comprehensive cost of ownership model with lots of interesting charts to get lost in. Up front they claim the median car costs $9,100 per year to own, but there are plenty of nice cars that cost less. Their breakdown is:
Depreciation
Fuel
Interest (on the loan)
Insurance
Maintenance and Repair
Taxes (and other fees)
Another way to divide the costs is into:
Carrying costs:- Costs associated with vehicle purchase, like the interest on the loan
Operating costs:- Costs associated with ongoing ownership, like fuel and maintenance
Carrying costs fall dramatically over time, while the operating costs tend to go upward. That is, the insurance or taxes on an old car is cheaper than a new car, and you will have paid off the loan after a few years. On the other hand, as a car ages repair costs go up.
Edmunds has a guide on keeping car expenses to a budget, that has a nice discussion of cost of ownership. They recommend car expenses stay within 20% of total (before tax) wages.
Taxes & Fees – 8%
Finance & Interest – 12%
Insurance – 25%
Fuel costs – 41%
Maintenance – 11%
Repairs – 3%
The
US Dept. of Transportation Federal Highway Administration had this graphic from 2001

Saskatoon Car Share is obviously trying to show potential members the relative cost of owning a car, versus accessing one through the car share program. In any case they the cost of owning a car is $10,452 (CDN), per year, based on this breakdown:
Depreciation – $3,634 or $0.20/km
Auto Insurance – $2,667 or $0.15/km
Fuel costs – $1,821 or $0.10/km
Maintenance & Repair – $1,180 or $0.07/km
Finance charges – $1,025 or $0.07/km
License and registration – $124 or $0.01/km
comments powered by

Disqus