Infiniti in the era of Electrification
Date: November 4, 2019
Tags: Infiniti »»»» Electric Vehicles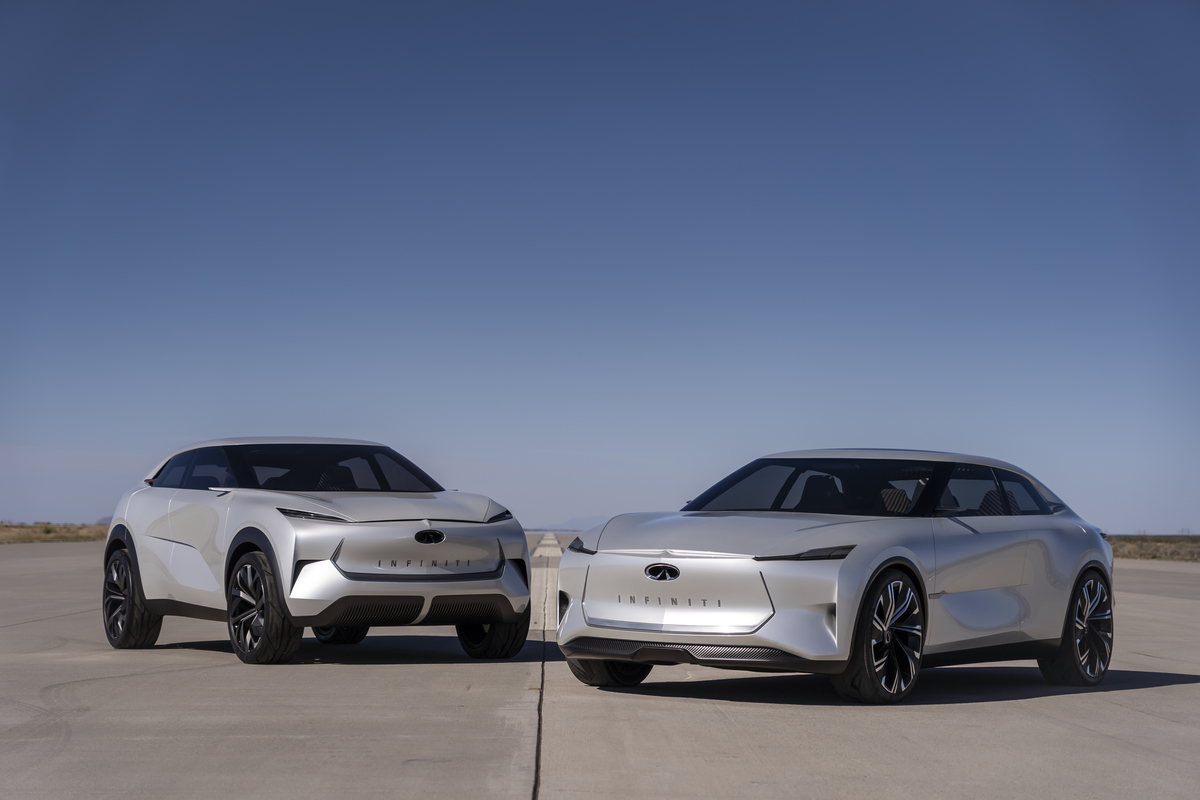 NASHVILLE, Tenn. – INFINITI's future models will offer drivers a choice of electrified powertrains as the brand embraces new technology to propel its vehicles. These include fully-electric systems, as well as a gas-generated EV system (known as e-POWER at Nissan) in which a gasoline engine generates electrical power stored in a battery, which can then be delivered to all four wheels through a pair of high-output electric motors. These powertrains will be matched with dedicated platforms and vehicle architectures, delivering the high performance, range confidence and reduce environmental impact that buyers are coming to expect from premium car manufacturers.
To illustrate the brand's powertrain development direction, INFINITI has revealed a trio of concept cars in recent years: the Q Inspiration, Qs Inspiration and QX Inspiration. Emblematic of INFINITI's plans, these three concepts call on forward-looking technology and daring design to reflect the brand's ethos. Electrification is a natural next step for the company and presents an opportunity for INFINITI to redefine its brand through high-performance, low-emissions models that offer a thrilling yet serene driving experience, and total range confidence.
Two powertrains, one platform
The fully-electric and gas-generated EV powertrain options will be matched with dedicated platforms and vehicle architectures under INFINITI's new 'two powertrains, one platform' approach to model development. This will see the creation of platforms which can accommodate both types of powertrain, with a high level of commonality between each.
Delivering battery power to a high-performance e-AWD (electric all-wheel drive) system, the platforms of all INFINITI's future electrified cars will be engineered to accommodate a pair of high-output electric motors – one on the front axle, one on the rear. For electric vehicles, the space between the two axles will house a high-capacity battery pack, while gas-generated EV models will feature a significantly smaller battery pack, accompanied by a fuel tank and exhaust system connected to a front-mounted VC-Turbo gasoline generator that powers the battery pack. For all models, drive will be provided solely by electric motors.
Powerful and serene design
Electrification doesn't just represent a powertrain revolution for INFINITI, but an evolution in design too. INFINITI design will adopt a new form language for the era of electrification. Dubbed 'powerful serenity', this will manifest itself in cars that look progressive, serene and powerful, embodying electrified performance. The result is an incredibly expressive design, with expansive, muscular surfaces and clear, concise lines inspired by origami, the Japanese art of paper folding.
Unshackled from the need to accommodate an internal combustion engine as the principal means of propulsion, the physical proportions of future INFINITI vehicles can be transformed. Engineers have more freedom configuring the mechanical layout of the car, with motor-driven wheels eliminating the need for drive shafts that intrude on cabin space in a conventional car.
The era of electrification will therefore enable INFINITI designers to adapt the proportions of future vehicles and create more spacious, lounge-like cabins. The brand's new 'powerful serenity' form language will give these cars a memorable visual identity – inside and out.
For 30 years INFINITI has built a reputation for adopting new technologies that give confidence to drivers, with designs that harness and give aesthetic expression to these innovations. As INFINITI looks to the future, the age of electrification presents an opportunity for the brand to lead car design into a new, eye-catching era.
About INFINITI:
INFINITI Motor Company Ltd., with representation in markets around the world, will electrify its portfolio in the next three years. The INFINITI brand, launched in 1989, celebrates its 30th anniversary this year. Its range of premium automobiles is currently built in manufacturing facilities in Japan, North America and China. INFINITI design studios are located in Atsugi-Shi near Yokohama, London, San Diego and Shanghai. The brand has been widely acclaimed for its daring design and innovative driver-assistance technologies. From the 2016 season, INFINITI is a technical partner of the Renault F1 Team, contributing its expertise in hybrid performance.
Find more information about INFINITI, its industry leading technologies and the all-new 2019 QX50 midsize luxury crossover at www.infinitiusa.com. You can also follow INFINITI USA on Facebook, Instagram, Twitter and see all our latest videos on YouTube.
comments powered by

Disqus