What's your choice for a weekend trip within your metropolitan area? It seems every weekend there's something to go to, a concert, a motorcycle race, a camping trip with friends, and so on. Most metropolitan areas have lots of activities every weekend to choose from. Therefore while the daily commute is typically 40 miles or less, your weekend driving needs could be more.
In this article we'll go over a traveling weekend we faced recently, and how we solved it.
We live in Santa Clara, CA, deep in the Southern reaches of the San Francisco Bay Area. My girlfriend needed to attend a conference in Corte Madera, CA, a city north of San Francisco in Marin County. There isn't an easy to get there from here, since the obvious route goes through San Francisco across the Golden Gate Bridge. While the Golden Gate bridge has lots of touristic goodwill, it is a bottleneck especially on a Friday evening when the traffic is not just commuters returning home, but vacationers heading out of town for the weekend.
Our only car is a Kia Soul EV, and we did not want to stay at the hotel during the conference. Instead, we felt our house was close enough to make the drive every day of the conference. The schedule was Friday evening, all day Saturday, with an evening networking meal on Saturday, then half a day on Sunday.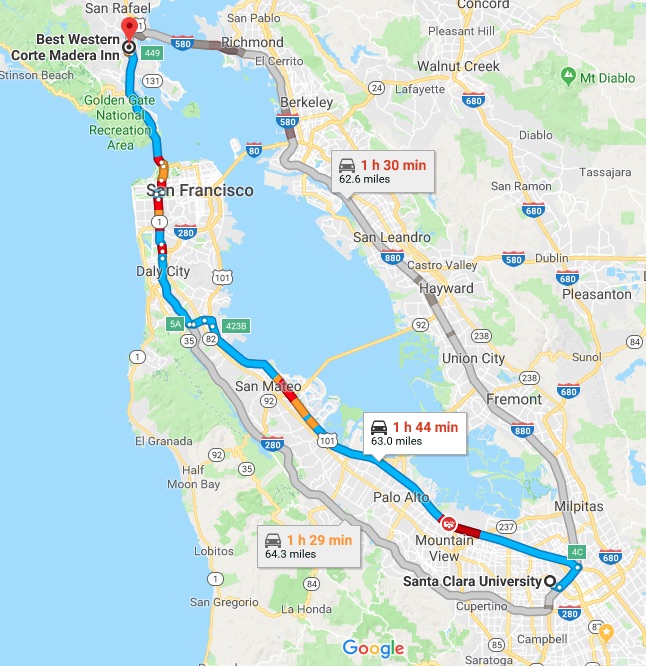 That's approximately the route - Santa Clara University is close enough to the house that I'm using that as the start/end point. My preferred route is along US-101 because of extra energy consumption to drive I-280. While I-280 is an extremely beautiful route through the mountains, driving up and down the mountains takes more energy. In any case you see that taking the route through San Francisco is 63 miles, and the route across the Richmond Bridge is 62.6 miles.
Given that the Kia Soul EV has a certified range of 93 miles, this is easily doable. In theory we'd arrive in Corte Madera from Santa Clara with 30ish miles of remaining range. That's a decent cushion, especially as a look at the PlugShare map reveals a set of charging stations across the highway from the conference location.
Reviewing the schedule
Friday evening requires arriving before 7pm, and leaving after 9pm

It's expected traffic will be extremely heavy on the Golden Gate Bridge on Friday evening
There's a scant 2 hours to almost fully recharge the car

All day Saturday requires arriving at 8am, leaving about 8pm

It's expected traffic will be light
Arriving in time means leaving very very early

Sunday morning requires arriving at 8:30am, leaving about 1pm

It's expected traffic will be light
Arriving in time means leaving not quite as early
A little trick here is to consider the geometry of bridge tolls in the San Francisco Bay Area. Northbound traffic on the Golden Gate Bridge does not pay a toll. For every bridge connecting between the East Bay area and the Peninsula, you pay a toll to leave the East Bay, but do not pay a toll to enter the East Bay area. This means - we were able to drive through San Francisco, using the Golden Gate Bridge to enter Marin County, without paying a toll, then for the return we drove across the Richmond bridge to drive down I-880, again without paying a toll.
Friday evening
We left the house around 3:30 pm with a full charge. I followed the route as shown on the map except for a small deviation. In Daly City, I took Daly Boulevard over to the coast to take the "Great Highway". This route has a more relaxed driving experience, with slower speeds, and more importantly less traffic than the typical recommended route through San Francisco on 19th Ave.
At the north end of The Great Highway, the typical route would take Geary over to Park Presidio, then through the Presidio. But I expected that route to be jammed with traffic, and instead took a route through the Sea Cliff area and the costal-side of the Presidio. That got us to US 101 very near the Golden Gate Bridge while being exposed to very little of the heavy traffic. The crossing was relatively easy.
Immediately north of the Golden Gate Bridge is a rest area where we stopped to eat the snacks/dinner we brought along. That rest area has wonderful views across the SF Bay of San Francisco and all the shipping activity going on in the area.
After that, we drive directly to the hotel with plenty of time to spare to get registered and for my girlfriend to get settled.
The car actually had about 25 miles remaining range upon arrival.
We had 2 hours at the conference, and the necessity of having 100% charge in order to make it back home with a decent cushion. That meant charging 70+ miles of range in 2 hours.
Across US 101 from the hotel is The Village at Corte Madera, a shopping mall that seems geared to rich people (going by the type of stores). There are two charging facilities at this mall:
I first went to the DC fast chargers, and found a Nissan/Sumitomo CHAdeMO charging station operated by eVgo as well as another that is CCS/CHAdeMO. I used the Nissan unit, and a 30 minute charging session got the car to about 70-80%. 30 minutes is all this station would allow.
I then went to the Volta Charging stations to top off. This took about 1 hour to get to 100% charge, for a total of about 1 1/2 hours charging time.
I then went back to the hotel around the time of the end of the evening session of the conference. We got in the car, and drove directly home.
Because our only charging at home is 120 volts, using our home charging would take 15+ hours to get to 100% charge. Remember that this trip requires 100% charge at the outset in order to arrive with a decent range cushion. We had from about 10pm until 6am which would not be enough time.
Therefore, upon arriving back in the South Bay we drove to a nearby Whole Foods that has eVgo fast charging stations. With that we went from about 25% to 75% charge in about 30 minutes. Then we went home to top off the charge using the 120 volt home charging system, and by morning the car was indeed fully charged.
Saturday
The rest of the weekend was a repeat of the pattern just described.
Saturday morning we got up way earlier than our usual rising time, packed up and headed out.
Instead of taking The Great Highway, I simply drove down 19th Ave and then to Park Presidio. I expected traffic to be light the whole way, and indeed it was.
In San Francisco I made one mistake that cost $73 in parking fines. I grew concerned about the remaining range and thought it would be needed to find a charging station in San Francisco. So, I pulled off Park Presidio Ave onto Geary Ave intending to park for a moment to check the PlugShare map to find a charging station.
Unfortunately what I did not know is that San Francisco prohibits parking on Geary on most mornings. While on the side of Geary Ave, a parking enforcement vehicle came up behind us, and we ended up with a $73 parking ticket. And, I ended up not even stopping at a charging station, and still arriving at the hotel with plenty of range cushion.
In other words it would have been better to stick with the route, and not get alarmed by the range indicator on the dash. Logically I knew we would make it, but ...
For charging I repeated what I had done on Friday evening. There was plenty of time because the conference was to go all day long. By mid-morning I was back at the hotel and pondering how to spend my day.
I could have gone to a nearby park, or maybe there was a park on Mount Tamalpais I could have gone to. Instead - I had some learning to do regarding some software, and sat in the hotel lobby watching YouTube tutorial videos all day long.
The dinner for conference attendees was back at the same Mall across the highway. We had a nice dinner, and then since the car was at 98% charge we stopped for a brief charging session at the Volta charging station. Arriving back in San Jose, we went to the Whole Foods, then back home so the car could be topped off overnight.
Sunday
The trip on Sunday Morning was less stressful. We just drove there, no trouble, and I went back to the mall for charging.
Leaving the conference by 1 or 2 pm meant we could take it easy heading home. We stopped at a shopping mall in Albany CA just to look around at some things, and we drove down San Pablo Ave through Berkeley. All of this was to give my girlfriend a sense of some of the SF Bay Area.
By the time we got to the Fremont area it was time for a late lunch, or else early dinner, and we found the Black Bear Diner in Fremont and shared a yummy full rack of ribs. No charging was available, however.
We then drove straight home, and plugged the car in to the 120 volt outlet at home rather than the Whole Foods fast charger. In this case we did not need the car to be fully charged any time soon, and the 18-20 hour recharge time was perfectly fine.
Conclusion
The trip happened pretty much to plan. The only wrinkle was getting alarmed in San Francisco and taking an unnecessary detour.
---
Range Confidence is Copyright © 2016-17 by David Herron
comments powered by